Tales of Darkmoon Vale
Zanaver Niron
Male Warlock, Mercanary for higher.
Description:
Level 5 Warlock

3d6 +5
Atk: +10
Eldritch Blast
1d8 +2
Atk: +5
Long Spear
+2 Bluff
Darkvision
Darkness(sp)
+2 Stealth
+5 Cold Resistance
+5 Fire Resistance
+5 Electric Resistance
Eldritch Blast
Detect Magic
Deceive Item
Fiendish Resilience
Imbue Item
Eldritch Invocations
Point Blank Shot
Precise Shot
Ability Focus: Invocations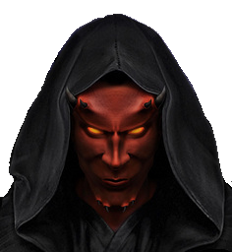 Ring of Protection
MW
Chain Shirt
Kobold King Crown
MW
Long Spear
Slippers of Spider Climb

tanding about 6'1", Zanavere is of average weight and a slightly muscular build, He wears a long dark duster with a hood. Upon first glancing the Tiefling, people are caught off guard. For they are at once drawn by the allure of his presence yet turned away by his features. Further sill, his voice is seductive yet commanding. His very being seems to be at odds with its self, a constant push and pull of dualities which penetrates far beyond mere appearance. One would be cautioned not to catch the wrong side of this coin, for the results would be grave indeed

other Unknown. My father was accused of witchcraft and devil conjuring. He was hung when I was ten, Vowing vengeance, I fled the town and lived on the streets of Ilogroth.


I apprenticed with a blacksmith for awhile but by the time I was fourteen, I became friends with a Local Mercenary guild. "The Dragon Fangs". I was mostly an errand boy, but soon was mentored by the Tiefling merc I knew as Ashmer. I was seventeen when I got my first contract, and with the help of Ashmer it was a grand success. After many years in the "Dragon Fangs" the city of Ilogroth was attacked and over ran by the armies of Vindovier. I managed to escape the purging. During my escape I became cut off from my fellow merc's. More importantly, I couldn't find my friend Ashmer. Two days later I returned to the city, finding most of it burned. Nearly all of the Dragon fangs had died defending themselves and the city. I could not find the body of my friend. Asking the few scattered villagers that remained about the Dragon Fangs, I discovered that a few of my brethren escaped. But they could not give me any clues as to where they might have gone. Having no ties. and needing money, I left the ruins of Illogroth in search of work.


Three years later I've found myself under the employ of the loathsome Thuldren Kreed. Need of food and new armor drove me to remain at the job. I'd have left by now if it wasn't for meeting up with Shrizyne, a friend from a couple of years back. I met him through another job. At the time I had conned him out of a couple of bows. How he was able to find me and reclaim his property so easily baffles me. We ended up working a few more jobs together and became fast friends. Due to the nature of my work. we had parted ways, that was until now.